Public art
The vision for the Sydney Metro Northwest Places public art program is for artworks that are memorable, distinct and powerful, which provide an enhanced experience of place.
In the coming years, Landcom will deliver a series of public art programs. Programs will include sculpture, environmental art, the integration of art and architectural design, and more temporary or ephemeral works such as installations, lighting works, new media and outdoor performance.
Current creative hoarding
In 2019, Landcom engaged Art Curator Amanda Sharrad to commission contemporary, bold and innovative artworks that would inspire, invigorate and announce our Sydney Metro Northwest Places.
Artists, nationally and internationally, were invited to provide an artwork concept to displayed along some of the hoardings at these places. The result was the commissioning of six talented and inspiring artists who have provided works that enhance the visitor experience of the sites.
Large-scale artworks across site hoardings at Tallawong, Kellyville, Bella Vista, Hills Showground, Cherrybrook and Norwest were installed for the community to enjoy.
Read more about the artists who worked with us and their artworks below.
Second round of creative hoarding
In late April, Landcom called for expressions (EOI) of interest from professional artists to submit an artwork concept design for the second round of creative hoarding. The second round will feature five curated works, which seek to enliven and activate these places, creating community connection and place identity.
Artists were given five weeks (26 April and 31 May 2021) to respond to the EOI by submitting a concept that demonstrated a connection with Northwest communities, reflecting the social, cultural, historical or environmental aspects of their lives. Concepts also needed to address local context by using the Sydney Metro Northwest Places thematic framework - The Network.
We have received a significant amount of submissions to the EOI, which are now being evaluated. Respondents will be updated on the outcome of their response once the evaluation process is complete, which is expected to be late June 2021.
Tallawong and Norwest: Living and Dreaming in this City by Ghostpatrol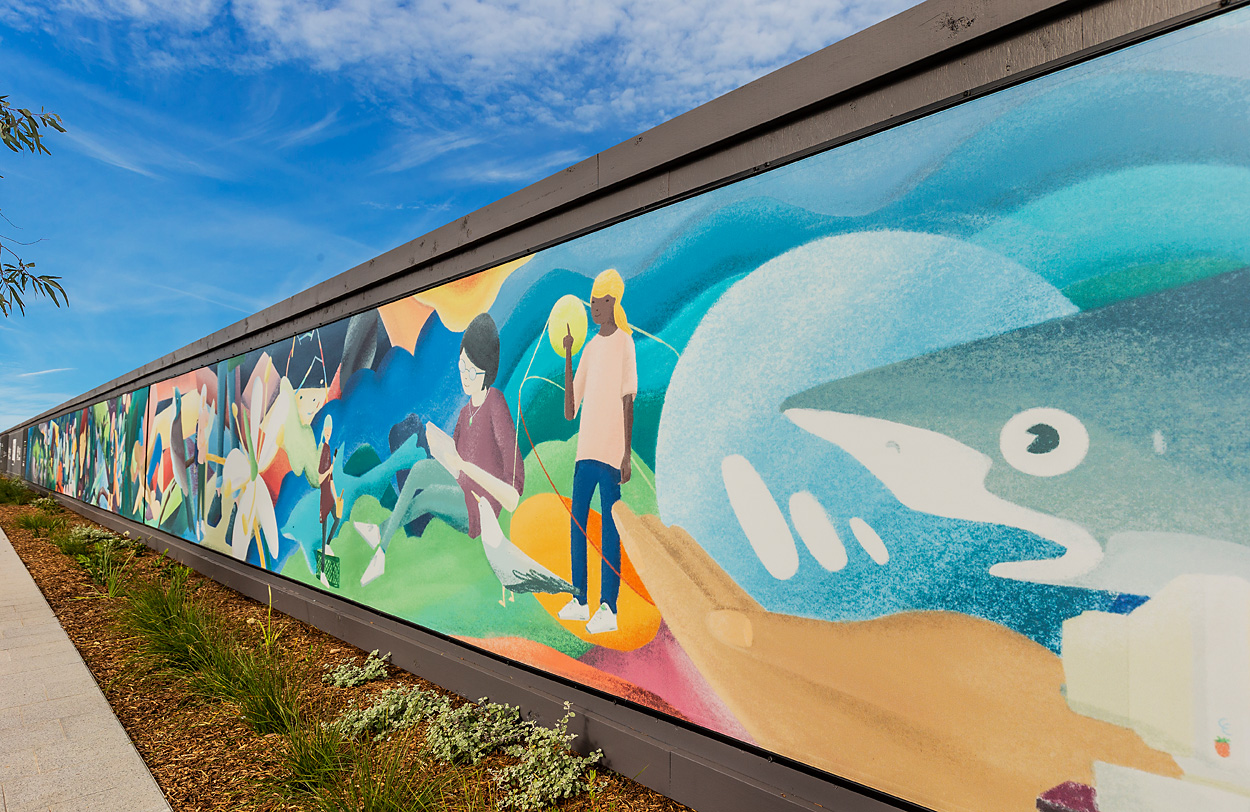 Tasmanian born, Melbourne-based artist Ghostpatrol's practice is grounded in a passion for drawing and sketching. He has always been split between street-based works, including temporary sculptures and installations, and contemporary studio-based practice that culminates in regular exhibitions in prominent private and public institutions across Australia and internationally.
The whimsical and innocent nature of his work seemingly opposes his conceptual concerns with metaphysics, quantum physics, cosmology and futurism.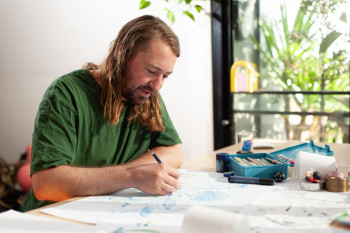 About the artwork - Living and Dreaming in this City
The artwork explores the network of all living things in this place and bridges the gap between the built and the living world. Plants and creatures are interwoven with people from all corners of our globe – playing, wandering, dreaming and exploring. The work represents discovery and adventure and encourages us to find a destination yet travelled.
Tallawong: Pemulwuy "Butu Wargun" (Crow, lawman) by Jason Wing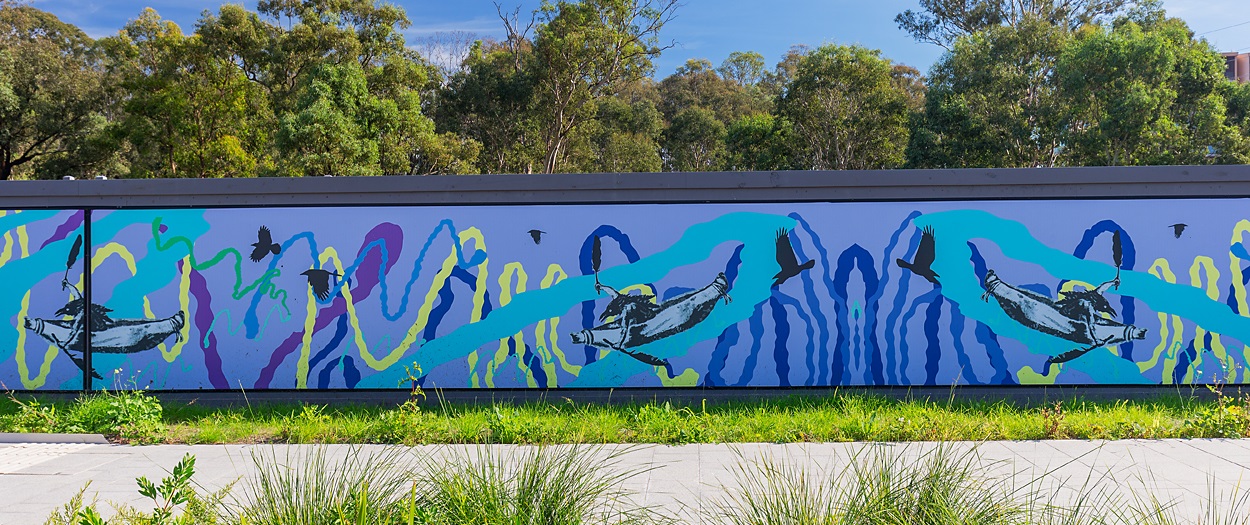 Jason Wing is a Sydney-based artist who strongly identifies with his Chinese, Aboriginal and Australian heritage. Wing began as a street artist and has since expanded his practice to incorporate photomedia, installation painting and public art, influenced by his tri-cultural upbringing. Wing has exhibited in museums and galleries throughout the world, is collected nationally and internationally and is the recipient of major awards. Wing produced his inaugural public artwork, the well-loved "In Between Two Worlds" in Sydney's Chinatown in 2011.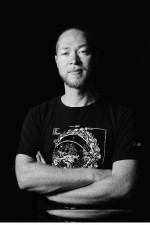 About the artwork - Pemulwuy "Butu Wargun" (Crow, lawman)
Pemulwuy was an Aboriginal leader who united many clans around the Sydney area to fight for his people against the British. Legend tells us that Pemulwuy was a magic man and escaped imprisonment by transforming into a crow. "Butu Wargun" means "crow" and "lawman": it represents the strength of Aboriginal people and the power of transformation.
Kellyville: Untitled 2019 by Jan van der Ploeg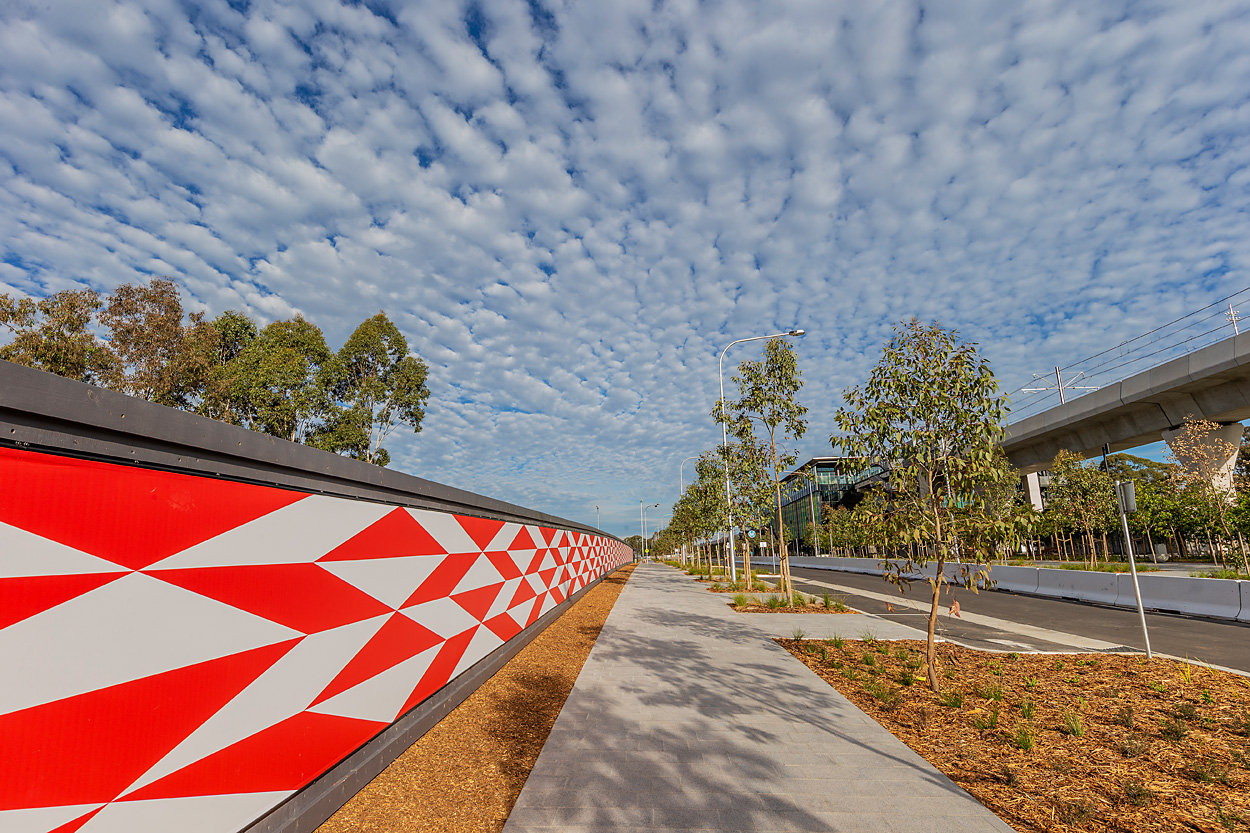 Jan van der Ploeg graduated from the Gerrit Rietveld Academie, in Amsterdam and Croydon College of Art in London and was a resident at the RijksakademievanBeeldende Kunsten in Amsterdam. In 1990, van der Ploeg was awarded the Royal Award for Modern Painting. He has exhibited his work extensively in both solo and group exhibitions in Europe, North America, Asia, Australia and New Zealand.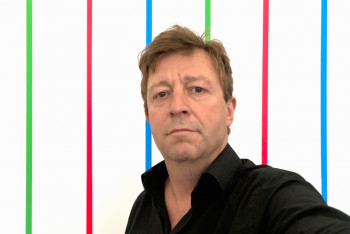 About the artwork - Untitled 2019
Playing with patterns, shapes and repetition, the artwork is an anchor to the unlimited potential of structures and shapes in our world. The organisation and balance arises from experimenting with the building blocks of basic forms, and creates order out of chaos. We're drawn into this striking, well balanced artwork that is a playful contrast to the surrounding environment.
Bella Vista: Pastel Shadow by Sam Songailo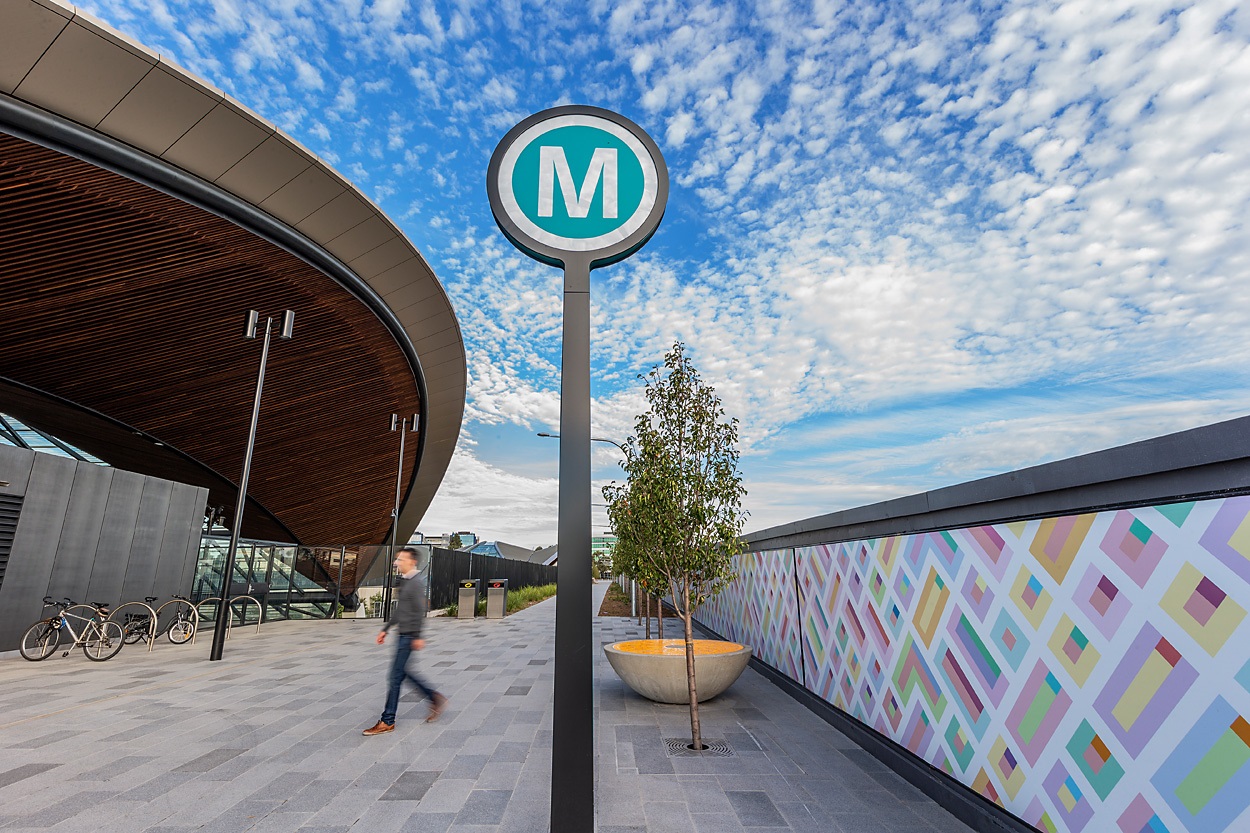 Sam Songailo's work takes form in painting, installation, video, sound and sculpture. He is deeply influenced by digital technology and electronic music adopting algorithms and concepts from these disciplines that shape his approach to both physical and pictorial space. Often highly immersive and realised on a monumental scale, his work accentuates the compositional elements of line and space in a form that recalls both the modernist grid and digital networks. Songailo has exhibited throughout Australia and the USA, delivered a number of public artworks and been the recipient of numerous grants and awards.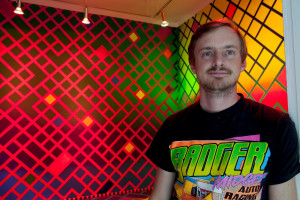 About the artwork - Pastel Shadow
The monumental artwork is striking from a distance and up close. By integrating the artwork and lighting into the environment, the artist connects us with the surrounding area and creates an immersive experience that enriches the site. A sense of place is created in which a shared space comes to life for the community.
Bella Vista: Pink and Blue Oasis by Sam Songailo

About the artwork - Pink and Blue Oasis
The site specific artwork provides an immersive experience that enriches its surroundings. Including the ground plane and hoarding on opposite sides of the park, the work unifies the space through the use of colour and pattern. The artwork creates an area open to interpretation which enables activity and community engagement.
Hills Showground: See It, Be Here by Georgia Hill

Georgia Hill is an Australian artist, specialising in contemporary, often site-specific artworks that combine bold, monochromatic textures and lettering within experimental compositions. Hill's works have spanned areas ranging from small inner-city walls to 400ft abandoned buildings in locations as diverse as India, New Zealand, Iceland, the United States, Canada, Japan, Indonesia, and across Australia's states. Hill creates her works from hand generated sketches, which are then realised as painted, printed and fabricated final artworks.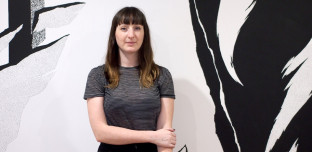 About the artwork - See It, Be Here
This artwork anticipates personal and collective change, development, growth and community. Some sections of the artwork are bold and obvious, while others have words camouflaged in the black and white line detail. The artist invites us to discover the hidden words which eventually becomes visible to reveal an inspiring, positive message.
Cherrybrook: Everything New Is Old Again by Timothy Harland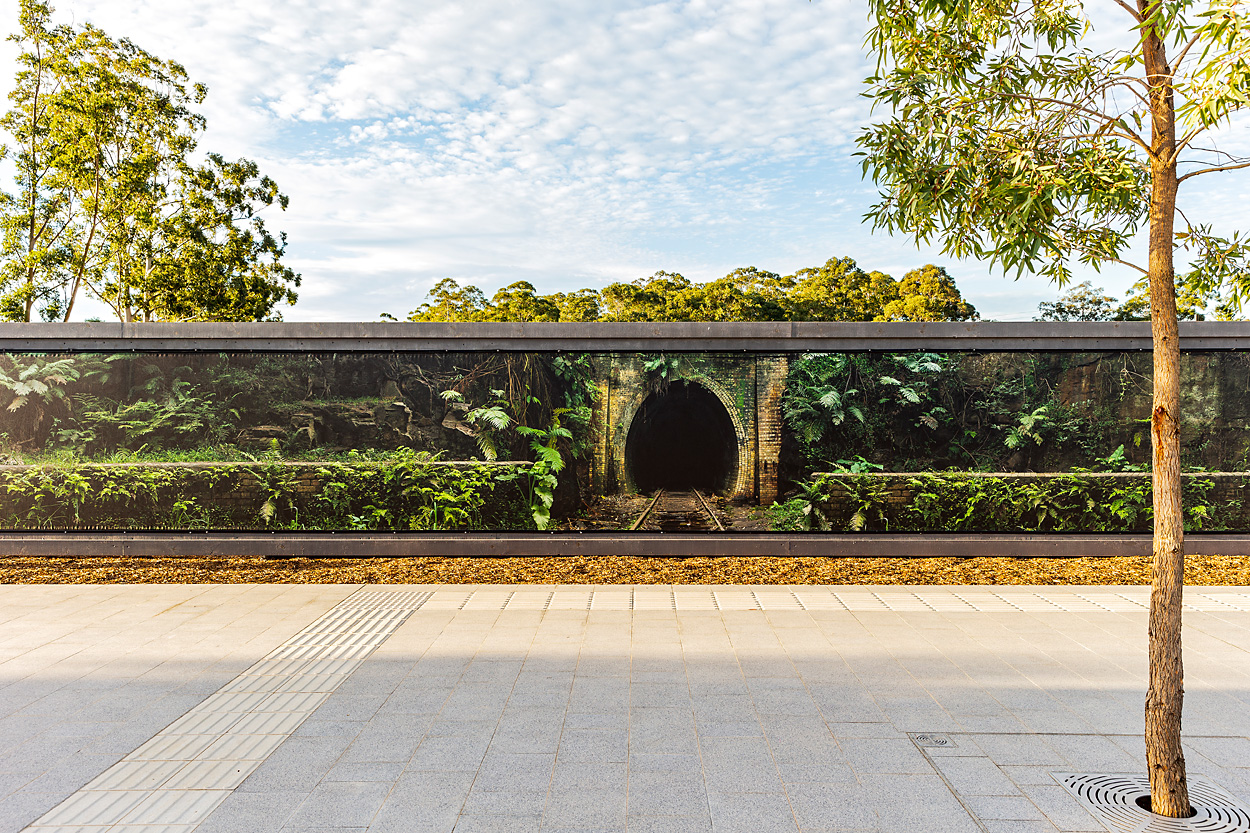 Timothy Harland is a photographer interested in capturing and presenting landscapes, both natural and manmade, in non-traditional ways.
He is particularly interested in panoramic and large-scale photography, and attempts to include both distance and time in images, to record the experience of taking the photograph inthe photograph itself.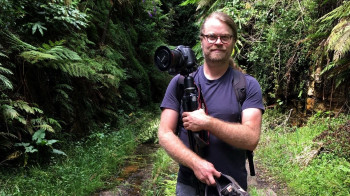 About the artwork - Everything New Is Old Again
The Helensburgh Tunnels were built in 1889 as part of the original Illawarra steam train line that connected Sydney to the south. When abandoned thirty years later, nature soon reclaimed the site with creeping vines and tree ferns. Although modern for their time, the tunnels represent the evolution of technology past, present and into the future.
The Hills Are Alive by Tina Havelock Stevens and collaborators

A multi-layered reflection on the past, present and future of the Hills district, this artwork highlights the perspectives of the traditional custodians of the land, the Darug people, through Leanne Watson's paintings of the local area totem, Kutukulung, the long neck turtle, and Darug language provided by Erin Wilkins. Alongside these are impressions by local writers who developed their works with writer Vanessa Berry in workshops facilitated by Westwords Centre for Writing.
The Hills Are Alive was part of Hasta La Bella Vista Baby, a project by long Sydney-based artist Tina Havelock Stevens who worked with the Bella Vista and Hills Shire community throughout 2019.
Local writers: Gwen Bitti, Jean Burke, Jesse Delauney, Grace De Leon, Rob Feldman, Danielle Geracitano, Vanessa Hatfield, Artelle Lenthall, Julie Thorndyke. Designed by Rose McEwen and Alex Torcutti. Co-commissioned by Landcom and the Museum of Contemporary Art Australia's C3West program.
Read more about Tina Havelock Stevens and Hasta La Bella Vista Baby.