Introducing Sydney's #NorthwestFaces
The Sydney Metro Northwest Places team collaborates with local community members and organisations from Northwest Sydney on a regular basis. There are so many people doing great things in the community that we decided to launch a program to share some of their stories, which we like to call Northwest Faces.
Are you a Northwest Sydney local?
Tell us your story for your chance to be featured as one of our Sydney Metro Northwest Faces by using the hashtag #northwestfaces or emailing us at sydneymetronorthwest@landcom.nsw.gov.au
Make sure you're subscribed to our Sydney Metro Northwest Places newsletter to learn more about our locals of Sydney's Northwest.
Ray and Sarah, Bella Vista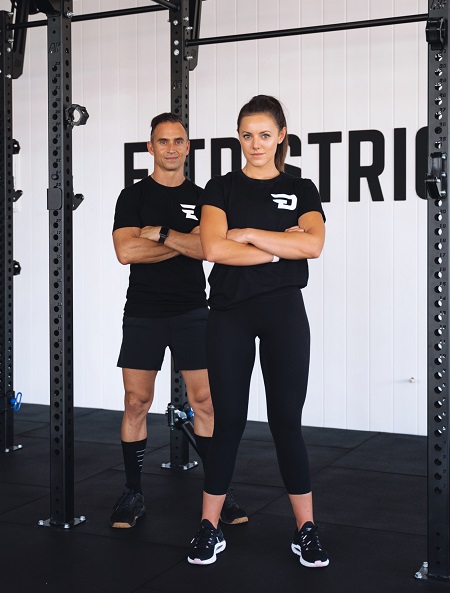 As Northwest Sydney continues to grow, we're excited to profile this month's Northwest Face, Fitdistrict's Ray Micallef. Ray and Sarah Jenkinson have just opened Fitdistrict at Bella Vista Station and they're proud to be taking an active role in the growth of the area.
Launching this month, Fitdistrict is a premium functional strength and conditioning training studio. "People who join us all share the same values – they are motivated, driven, and empathetic. We've already received plenty of support from the local community and having grown up in the area I'm particularly proud of our diverse clients, we want to ensure everyone feels welcome," says Ray.
"As professional coaches, we push people within their limits but challenge them when we need to. For us it's all about providing a supportive and encouraging atmosphere. Fitdistrict is open to everyone and accepting of all members of the community." Ray says.
We asked Ray why he and Sarah selected the Northwest as the prime location for Fitdistrict. "The Northwest has become a massive growth area with big opportunities for people wo are self-employed to grow businesses in a dynamic area."
"Fitdistrict was born out of COVID. After the first lockdown, we were both training people outside respective gyms while they were closed. Sarah and I have similar training philosophies and we both developed our local fitness communities through outdoor training. We wanted to set up a boot camp in the Northwest, so we went into the Display Centre to ask about potential gym sites. We got to a point where we were ready to turn it into an actual gym, we came across the space at the metro station, fell in love with the vision and got started."
You can learn more about Ray, Sarah and Fitdistrict by clicking here.
Ralf Hoffman, Northwest Sydney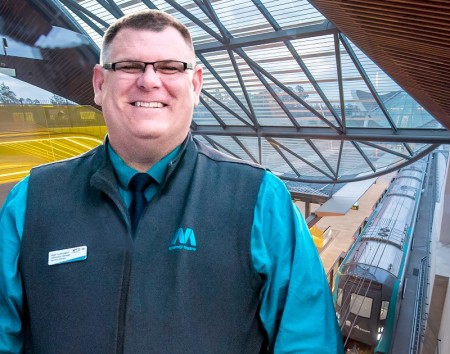 This month we sat down with a familiar Northwest Face, who you may have seen while taking a trip on the metro – Ralf Hoffman. Ralf is a local and Metro Trains Sydney Customer and Stakeholder Manager.
Ralf splits his time between being on the front-line helping customers, working with community groups, emergency services, councils and construction workers, and working with Metro Trains Sydney operations team to ensure the smooth delivery of metro services throughout the network.
"We're always here to help our customers. One of my favourite experiences is when a customer travels on the metro for the first time. For example, it might be a grandparent travelling with their grandchild, or by themselves, and they're excited to experience the technology for the first time. We can help them get to where they need to be and make sure they get the right concession for them," says Ralf.
"It's pretty special for customers to be able to experience their metro ride from a driver's perspective of a train. The metro line between Bella Vista and Tallawong is particularly exciting as passengers experience travel across the viaduct, and speeds of 100km per hour, above the traffic on Windsor Road. It's so lovely to have that outlook of the community and surrounding suburbs," he adds.
We asked Ralf what he enjoys most about working in the Northwest. He told us "It's great to see how much respect and pride the customer have for the metro. That's been something we've really noticed from day one and I'm proud of that."
You can learn more about Sydney Metro Trains by clicking here.
Monir Rowshan, Blacktown
This month we sat down with our latest Northwest Face Monir Rowshan, Coordinator Cultural Planning and Community Engagement at Blacktown City Council and Blacktown Arts, to talk about her role in the local community.
Monir fled Iran to escape persecution before arriving in Australia in 1984. Monir and her husband moved to Blacktown 13 years ago to be closer to work and they have been living there ever since with their rescue dog and new kitten.
An artist herself, Monir in her role works across a wide range of arts and cultural development projects including the Blacktown City Cultural Planning and community engagement, public art development, residency programs, an annual grant scheme to assist local artists and community organisations develop creative ideas and much more. ,
Over the last two years, during the lockdown period Blacktown Arts has worked hard to continue offering experiences online through its Facebook Open Studio, workshops, performances, digital art and exhibitions. Blacktown Arts also continues to facilitate its Elders in Residence program, which invites communities to hear the personal stories of local Elders and absorb knowledge and stories of culture and Country.
Monir told us what she loves about living and working in Northwest Sydney, "Blacktown's really special because of its history of the Darug/Dharug First Nations communities who are the traditional owners of the area. I have met so many amazing First Nations artists and communities from this area and beyond, and it's great to engage in dialogues with them to learn and to collaborate on projects and programs such as public art, NAIDOC, Sorry Day and more. I love Blacktown for its sense of community and diversity – it makes it more interesting."
You can learn more about Blacktown Arts by clicking here.
Sebastian Spearman, Tallawong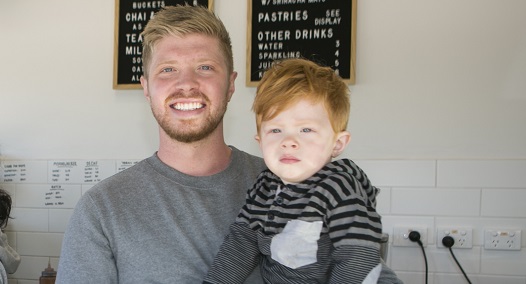 Local coffee lovers will recognise our December Northwest Face, Sebastian Shearman. Sebastian is the owner and operator of AppleGum Coffee at Tallawong Station – a favourite spot for commuters.
The name Tallawong is a word with local historical significance as it's derived from the Darug/Dharug word 'dalawang' for the apple gum tree. At AppleGum, the team serves up a delicious selection of Market Lane coffee and yummy toasties to start the morning.
Sebastian has worked with some of the best coffee roasters in Australia including Mecca and Pablo & Rustys. He lives in Carlingford with his wife and two sons, and we asked him what he loves about working in Sydney's Northwest, "we love that our regulars come from all walks of life – from the commuters, to the tradies, we're really excited to see exciting updates happening in the area."
You can visit Sebastian and the team at AppleGum for your morning brew from 6am to 10am, Monday to Friday at Tallawong Station.
Rob Katz, Castle Hill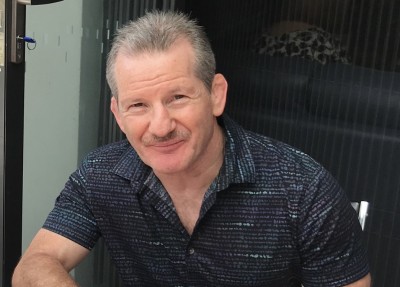 If you've been to Budokan Judo Club at Castle Hill Showground, you will recognise our latest Northwest Face, Rob Katz.
Rob and his wife Kerrye live with their two sons, Nathan and Josh in Northmead. They've been running the not-for-profit judo club since 1998. Between them, the duo have an impressive list of awards and represented Australia at the Olympics, Kerrye as an athlete and Rob as Coach. Keeping it in the family, Nathan and Josh have competed in a combined three Olympic Games, and are training for the Birmingham Commonwealth Games 2022 and the Paris 2024 Olympics!
The club relies on its qualified volunteers and supportive community to keep it going. It has grown from 10 students to a peak of 245 students this year. The club is family-friendly, but also competition orientated. During lockdown, the team adapted to Zoom classes, "It was challenging to say the least, judo is a sport that requires a partner, so we created solo drills and did a lot of fitness work in the meantime." Last month they were pleased to head back to the mats for the first session in 16 weeks. Rob looks forward to the club being a part of the new vibrant Showground precinct.
We asked Rob what he loves about living and working in the Northwest. "Everyone's very friendly – we take plenty of walks with our dog and really enjoy how leafy and open the streets are, along with the parks and playgrounds. When it comes to Budokan, lots of people walk by the club in the Showground, look inside and join our classes because they can pick up on its energy. We have lots of families, a huge spirit and colourful vibe."
You can learn more about Rob's work at the Budokan Judo Club by clicking here.
Angela Van Dyke, Blacktown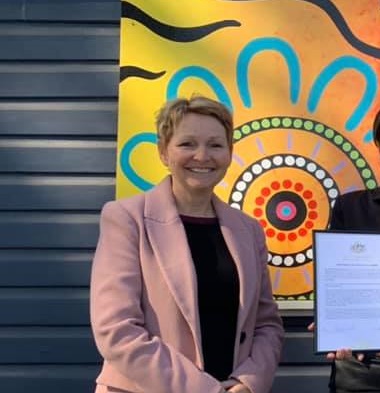 Angela Van Dyke has just celebrated four years as CEO of Riverstone Neighbourhood Centre. The not-for-profit community organisation was formed in 1977, and continues to provide a range of support services for those in need in the Northwest.
Riverstone Neighbourhood Centre had to quickly shift to delivering its services remotely during lockdown, "While our buildings are closed, our services remain open. We're focused on supporting people through difficult times and we're seeing a 60% increase in people needing help compared to last year's lockdown," Angela said.
Angela's parents migrated from Croatia to Australia and settled in Fairfield. She explains her passion for working with diverse, marginalised communities, "Neighbourhood centres are so important because when families lose connections, these hubs become a safe space where they can form new connections – new friendships and a new family circle."
Having lived in Beaumont Hills, Rouse Hill, Glenhaven, and now living in Blacktown, Angela and her husband raised their two daughters and son in the Northwest. She loves that the area is a place where you can put down roots and create your own community, feeling a sense of belonging, "You say hello to your neighbours, and if you haven't heard from them in a while, you'll check in on them," Angela explained.
You can learn more about Angela's work at the Riverstone Neighbourhood Centre by clicking here.
Francis Broomfield, Schofields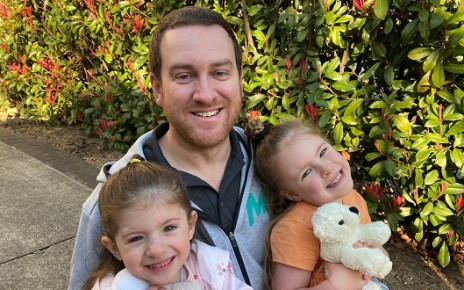 In celebration of Father's Day, we sat down with Hills District Dads' Francis Broomfield for our latest Northwest Faces profile.
Francis grew up in The Hills, and now lives in Schofields with his wife and two daughters aged three and five. They usually spend Father's Day visiting Sydney Zoo, but this year looked a little different with a BBQ and a nice big walk together around the area.
A Physiotherapist by day at The Movement Clinic, Francis is also an Administrator of Hills District Dads. Founded in 2014, the local group provides mental health support for men in a safe and inclusive space.
With over 6,500 members (and growing), Hills District Dads opens up conversations with dads and dads-to-be across a variety of important issues including employment, relationship struggles and breakdowns, and mental health challenges:
"We even facilitated a connection, which enabled a member's wife with potentially terminally-ill cancer secure an urgent meeting with a specialist," explained Francis.
Current restrictions mean Hills District Dads' monthly support meetings can't take place face-to-face: "We've adapted to connecting through regular online support sessions, as well as trivia nights and social catch ups," Francis added.
You can join the Hills District Dads Facebook Group here.
Bradley Eastman (Beastman), Kenthurst
Following our second round of creative hoarding EOI in April 2021, five artwork concepts were selected.
One of the successful artists is Bradley Eastman (better known as Beastman). Bradley is a Northwest local. After growing up in The Hills, then living and working abroad, Bradley has returned to the area and is living with his family in Kenthurst. We sat down with Bradley to delve into his experience living and working in Northwest Sydney:
"A lot of my work over the last three to five years explores the balance of man vs nature - how humans and development interacts with natural landscapes," said Bradley.
Bradley is passionate about the importance of local public art for young people "I do lots of projects with schools in the area – painting murals and holding workshops. I failed art at high school and got into it in my mid-20s, so I always encourage the students to explore their hobbies outside of school, and to find their subculture, group or community" he said.
For further updates on Bradley's creative hoarding concept, as well as the other artists selected, click here.
2021 Sydney Hills Youth Ambassadors
We had the privilege of speaking with the 2021 Sydney Hills Youth Ambassadors as part of our Northwest Faces series. We were incredibly inspired by their determination to amplify the voices of young people in the local community.
They told us what they loved about growing up in Northwest Sydney and why they think it's important for young people:
Introducing Julie
Julie Charlton (21, Dural) started disability advocacy at the young age of seven years old. After completing school at Hills Grammar, she is now studying a Bachelor of Arts in Sports Coaching (Management) at The Australian College of Physical Education.
Julie told us: "I love the atmosphere of the local shopping centres – they are where we hang out, and are part of our identity. They really use the area to encourage youth to come together, especially Rouse Hill, which is nice and open with spaces to sit and hang with friends."
Introducing Rory
Joining the youth ambassadors, Rory O'Connor (23, Castle Hill) is studying media and economics at Macquarie University, and working in the city. Rory is a great supporter of community programs, and on top of his studies he volunteers for local organisations such as Bushcare.
Rory also loves that local shopping centres provided a place for young people to get together with friends, plus he loves "how green the area is – the gardens, the trees, it's almost like a forest behind where I live. The second thing I enjoy the most would be the sense of community – I've loved taking part in local sports and local competitions, as well as being a part of the local parish," said Rory.
Introducing Munira
A talented writer and performer, Munira Tabassum Ahmed (16, Kellyville) is currently in year 11 at Baulkham Hills High School. Munira has already been featured in the Australian Poetry Journal, Emerging Writers and Runway Journal, and she is passionate about arts, mental health and wellbeing.
Munira has lived locally her whole life, she enjoys the area because it has "a really diverse population, strong sense of community and opportunity – it's a beautiful place to live."
Learn more about the 2021 Sydney Hills Youth Ambassadors.
Elena Saadie from Bella Vista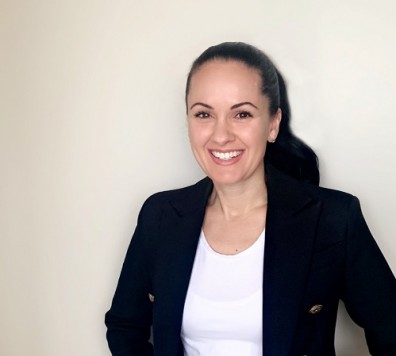 In celebration of Mother's Day, we profiled Bella Vista mother of three Elena Saadie.
Elena is the owner and director of Australian Boutique Markets, which launched ten years ago in the Hills with 50 stallholders. Since then, it has expanded to Rouse Hill Town Centre where it now showcases hundreds of small business stalls each year. But that's not all, Elena also launched Park Feast food truck festival in 2016, as well as The Designer Markets and My Bambini Baby & Children's Markets.
Using her expert knowledge of Sydney's food scene, Elena curated food truck operators for Hasta La Bella Vista Baby and sourced local products for inclusion in our 2019 Christmas hampers
Living and working in Northwest Sydney, Elena told us what makes the area special to her: "I love that I'm close to home, my kids' school and sporting commitments are all close by to our offices. The Metro has also made our life so much easier to get in and around the Hills."
Learn more about Elena and Australian Boutique Markets.
Sue Chang from Baulkham Hills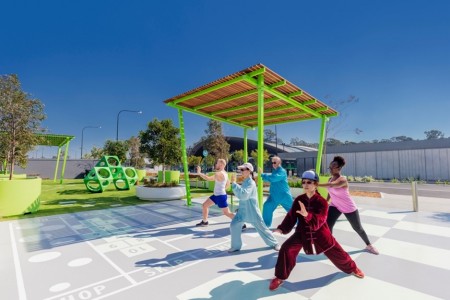 Sue Chang has been a Baulkham Hills local for 17 years and has been teaching Tai Chi for over 20 years. You might recognise Sue from our Tai Chi classes which were held in Tallawong Pocket Park. We sat down with Sue to learn more about her story as part of our #NorthwestFaces series.
Sue experienced the benefits of Tai Chi from a young age, growing up in Beijing. As a child, she had poor health and after trying a range of remedies, her father's family encouraged her to take up Tai Chi. Working with a well-known master, she perfected her practice to eventually become an expert herself.
Sue is passionate about teaching people how to connect with nature and improve wellbeing through pain reducing activities such as Tai Chi. According to Sue, Tai Chi can help boost energy levels, support rehabilitation, provide stress and pain relief, and offer general improvements to health and wellbeing.
Setting up a studio in her garage at home has allowed Sue to help people through her practice. She tells us "everything feels better in the Hills. When we first moved here we were drawn to all the nature - lots of birds rich in colour, and many trees generating oxygen and filtered air to breathe."
Jenni Goodwin from Kellyville Ridge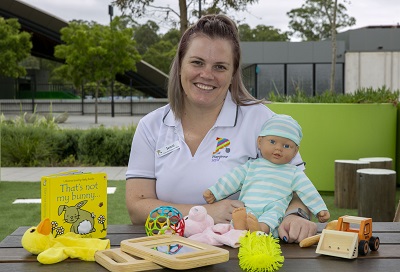 We sat down with Jenni Goodwin who has lived in Northwest Sydney for 14 years, to find out more about her role at Playgroup NSW as part of our #NorthwestFaces series.
As the State Development Officer at Playgroup NSW, Jenni's role is to support community playgroups in the local area. As a parent, Jenni has experienced the success of these sessions first hand – she took part in Playgroup NSW in Kellyville with her two children who are now 10 and 12, and she continues to stay in touch with the parents she met at playgroup.
Jenni told us what she loves about living and working in Northwest Sydney with her family: "It's quite communal – we love that there are lots of parks, particularly in new estates. Our kids are happy at their schools and have lots of friends in the area. The diversity of the community also provides plenty of learning opportunities."
You can learn more about Playgroup NSW's baby pop up sessions at Tallawong Pocket Park.
Amanda Brisot, West Pennant Hills
This month we're turning our spotlight to local Amanda Brisot, General Manager of Western Sydney Business Connection, a not-for-profit member-based organisation that exists to connect and provide a voice for the businesses of Western Sydney.
After an unprecedented 2020, Amanda spent the Christmas break at home with family, relaxing on the veranda and in the pool, doing jobs around the house and enjoying time with friends.
To kick off the year, Amanda has given us her tips about how to use January to prepare for the year ahead:
Take some time to cast out old energies and bring in the new ones. I'm a big fan of meditation and I practice it daily as much as I can.
Get clear on what you want to achieve – set goals in your own mind on what you'd like to achieve personally and professionally.
Focus on opportunities – we spend the first quarter at Western Sydney Business Connection encouraging members to look at what we can actively pursue for the year ahead. It instils a great sense of optimism by starting the year off this way.
Jinnie De, Baulkham Hills
Campbell McLeod, Bella Vista
Sandeep Pandir, Quakers Hill