About the Project
The government-owned land around Cherrybrook Station was deemed a State Significant Precinct due to its social and economic characteristics, particularly in relation to the provision of new housing and new jobs.
State Significant Precincts respond to the NSW Government's strategies for providing well designed buildings and public spaces, healthy environments with open space networks, trees, links to public transport and road networks, and jobs and housing. Due to their significance, State Significant Precincts are assessed by the Department of Planning, Industry and Environment, in consultation with the local council and the local community.
Landcom is working with Hornsby Shire Council and other stakeholders to prepare a rezoning application to enable a mixed-use precinct with shops, work spaces and homes, along with open space and recreation areas. The vacant land adjacent to Cherrybrook Station will be the focus of new development.
Under the proposed rezoning, development could include:
a mix of uses including retail, residential, services and community space
about 600 new homes in buildings of around eight storeys in height to meet the needs of people with changing lifestyles and different income levels
high quality open space and recreation areas
a landscape character which reflects the surrounding area
new pedestrian and cycle paths.
Cherrybrook Project vision
Landcom's vision for the Cherrybrook SSP is for:
An inviting, welcoming place that provides a range of housing choices, open spaces for community activity, spaces for businesses and community facilities, and easy access to new metro services.
The concept plan
Subject to the outcomes of technical studies currently underway, a concept plan is being developed. The concept plan is not a final plan for the Cherrybrook State Significant Precinct. It simply demonstrates how the site could look if the rezoning application is approved.
The draft concept plan indicates the proposed layout of the buildings and key features of the development. The plan has been developed with the existing leafy character of Cherrybrook in mind, and aims to create a safe and welcoming environment for future residents and users.
Community engagement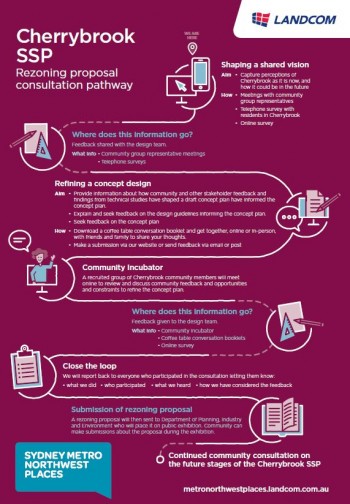 Thank you to the many people who shared their thoughts about the future of the government owned land at Cherrybrook Station
The consultation period has now closed and we are reviewing the information you provided.
We have done an initial review of the feedback, and heard that some people:
value the Blue Gum High Forest and the green, leafy look and feel of Cherrybrook
want more cafes, restaurants and safe places for young people to meet, while others told us they were happy to use services in Castle Hill and Epping
think the provision of affordable housing for people such as teachers, nurses, disability and childcare workers, and emergency workers like paramedics and police was a great idea
are concerned about the impact on traffic congestion and parking
are concerned about the capacity of schools in the area
are opposed to the proposed maximum building height of up to eight storeys.
We value your feedback and our team is considering this, along with the findings from the technical studies required by the Department of Planning, Environment and Industry, which will soon be complete.
Once we have completed our review of the feedback, we'll publish a report about the consultation, including a summary of how you were able to provide feedback, what you told us and what we did with this information.
The rezoning proposal is expected to be submitted to the Department of Planning, Industry and Environment later this year. The Department is likely to place it on public exhibition during 2021, when you will be able to see the final proposal and all of the reports and studies that informed it, including a detailed report on the outcomes of the community consultation. You will be able to make further comments on the proposal at this time.
Consultation activities
Community consultation about the rezoning of land near Cherrybrook Station began on 24 July 2020 and ended on 27 September 2020. We invited participation through:
delivery of flyers to 2,100 properties in Cherrybrook and West Pennant Hills
posting social media announcements on Facebook and LinkedIn
sending an update to people who have registered interest in the project
emailing 72 Cherrybrook community groups, service providers and businesses
sending a media announcement to the Northern District Times.
We also advised the local Member of Parliament and the Hornsby Shire Council Mayor and General Manager that community consultation had started.
Consultation activities included:
updated information about the project on our website
an online survey between 24 July and 6 September 2020
that same survey conducted over the telephone by an independent research company, aimed at collecting the opinions of three defined age groups (18-39, 40-59 and 60+ years) with roughly equal representation of each group
an online feedback form open until 27 September 2020
meetings with seven Cherrybrook community groups
an online community incubator held between 27 - 30 August 2020 with a follow up video conference held on 7 September 2020
an online coffee table conversation booklet, which closed on 27 September 2020.
Read more
What have we heard?
Sign up for project updates if you would like to hear about future opportunities to have your say.
We will soon report back on how we used community feedback to help shape the rezoning proposal. Any feedback we received that related to the wider area was provided to the Department of Planning, Industry and Environment to guide their planning for the broader Cherrybrook area.
At a glance
Location

North of Castle Hill Road and bounded by Robert and Franklin Roads, Cherrybrook

Council

Land size

7.7 hectares (3.5 hectares of developable land)

New residential dwellings

Subject to further studies, about 600 homes

Delivery timing

Subject to approval, up to 10+ years, delivered in stages

Potential land uses

Subject to further studies, uses could include community space, retail, commercial and open space

Diverse housing

Meeting the needs of different people at different life stages
Cherrybrook Station Government Land State Significant Precinct
The Cherrybrook Station Government Land State Significant Precinct (Cherrybrook SSP) is 7.7 hectares in area and includes Cherrybrook Station, the commuter carpark, Bradfield Parade and vacant land to the east of the station. The site is bound by Castle Hill Road to the south, Franklin Road to the south-east, and Robert Road to the north-west. The focus of community engagement is on the 3.5 hectares of vacant land in the eastern section of the site.
Read more
The Cherrybrook SSP has the potential to become a vibrant local centre with shops and services, quality public spaces, community services and a mix of housing in a leafy setting and with easy access to business and entertainment districts.
Landcom is seeking to change the Cherrybrook SSP site zoning to enable lively mixed-use development around the new Cherrybrook Station.
We have commissioned the technical investigations and reports required by Study Requirements issued by the Department of Planning, Industry and Environment. When complete, these studies will provide information to support planning for the Cherrybrook SSP.
The rezoning application, to be lodged in late 2020, will propose high level planning controls to amend the Hornsby Local Environmental Plan (LEP) 2013 and Hornsby Development Control Plan (DCP) 2013, including heights, open space provision and setbacks. The application will include an indicative concept plan that shows development possibilities under the proposed rezoning.
After our rezoning application is lodged, the Department of Planning, Industry and Environment will place it on public exhibition for further comment. The Department will then review the submissions it receives, before the Minister for Planning and Public Spaces makes a final decision.
Timeline
1
2019
Cherrybrook Station government-owned lands declared a State Significant Precinct
2
2020
Rezoning proposal investigation
Community consultation to inform Cherrybrook Stations State Significant Precinct proposal
3
2021
Rezoning proposal is placed on public exhibition by Department of Planning, Industry and Environment
Minister for Planning and Public Spaces makes a determination about whether to rezone the site
Planning for wider Cherrybrook
The Department of Planning, Industry and Environment is preparing a 'Precinct Vision and Implementation Plan' for the broader Cherrybrook Station Precinct. This plan will provide further detail to guide the planning, infrastructure needs and implementation of the 2013 Cherrybrook Structure Plan. The precinct plan will then inform future rezoning proposals for the private land in the broader precinct.
Information about the Cherrybrook Station Precinct planning being led by the Department is available on the Department's website.
Next steps
Landcom will lodge a rezoning application with the Department of Planning, Industry and Environment in 2021.
After our rezoning application is lodged, the Department of Planning, Industry and Environment will place it on public exhibition for further comment for at least 28 days. The Department will then review the submissions it receives, before the Minister for Planning and Public Spaces makes a final decision.
Stay in touch
Subscribe below to receive notifications and updates as they come.