Weekly Dance Classes by The Stage Door Performing Arts
Wednesday mornings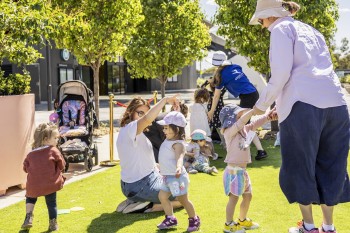 Let's Dance! Every Wednesday morning (during school term), The Stage Door Performing Arts operates a free weekly dance class for pre-schoolers at Bella Vista Pocket Park.
Classes are designed by tutors trained at the Australian Teachers of Dancing, with the goal of introducing kids aged 2 to 5-years-old to the exciting world of dance, as well as developing motor skills and musicality, and promoting social and emotional growth.
The Stage Door Café will also be open during the class, providing the option to purchase refreshments and a relaxing spot for parents and caregivers to meet local families at the same time.
Registration is essential - just use the Sign Up link below to join, and receive all scheduling and wet weather information.