Hills Showground: See It, Be Here by Georgia Hill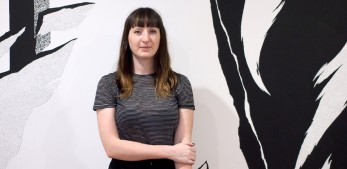 Georgia Hill is an Australian artist, specialising in contemporary, often site-specific artworks that combine bold, monochromatic textures and lettering within experimental compositions. Hill's works have spanned areas ranging from small inner-city walls to 400ft abandoned buildings in locations as diverse as India, New Zealand, Iceland, the United States, Canada, Japan, Indonesia, and across Australia's states. Hill creates her works from hand generated sketches, which are then realised as painted, printed and fabricated final artworks.
About the artwork - See It, Be Here
This artwork anticipates personal and collective change, development, growth and community. Some sections of the artwork are bold and obvious, while others have words camouflaged in the black and white line detail. The artist invites us to discover the hidden words which eventually becomes visible to reveal an inspiring, positive message.