Bradley Eastman - "Hills Intervention"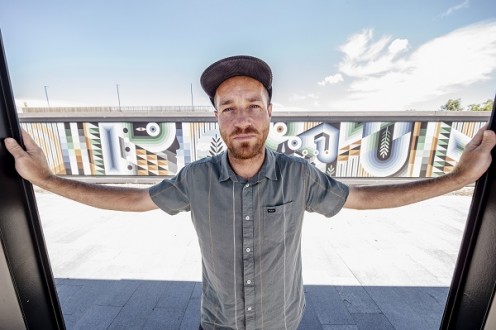 (Beastman) is a multidisciplinary artist from Sydney. Influenced by the biodiversity, symbolism and design aesthetics behind nature's growth patterns and organic landscapes, Beastman's paintings, digital illustrations, animations, commercial projects and public murals explore a unique visual language, depicting future environments of abstract geometric landscapes, potential new life forms and human intervention.
A distinctive and prolific contemporary Australian artist, Beastman has exhibited his artworks extensively around the world, curated and organised numerous international art exhibitions and projects, and has been commissioned by the likes of Element, Facebook, Vivid Sydney, Mini, Apple, Westfield, Adidas, Red Bull, Stockland, GPT, Vicinity, The Star Sydney, Hyundai and many more.
His artwork has been acquired by the National Gallery of Australia, and his large solo and collaborative mural and installation works can be found throughout Australia and around the world.
About the artwork - Hills Intervention
Due to population growth, the demand for more housing continues to rise, leading to further expansion of land development in rural areas. This vibrant artwork explores the subject of man versus nature, along with associated themes of population growth, construction, building materials, transport planning and future environments. The abstract artwork uses geometric patterns, architectural design elements and a site responsive colour palette to portray the ebb and flow of human collaboration and intervention with the surrounding rural and natural environment.
Sydney Metro Northwest Places public art program thematic framework
This artwork lies in the idea of The Network – represented by the interconnected values and relationships we develop with people, places and the environment – and the human and environment sub-theme.