Live Life Get Active Parents, Carers & Kids Fitness Classes
Tuesday and Wednesday afternoons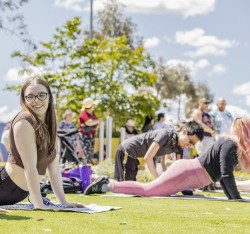 Held at 4.30pm on Tuesdays and Wednesdays during school terms, these FREE Live Life Get Active classes offer fun and interactive fitness games designed for parents and carers with children aged 6-12 years old.
Conveniently located in Bella Vista Pocket Park, you and your kids will have the chance to get fit, have fun, make friends, and get active!
Kids don't get all the fun, though – be sure to also check out our weekly adult fitness classes here.
Registration is essential - just use the Sign Up link below to join, and receive all scheduling and wet weather information.