Previous community engagement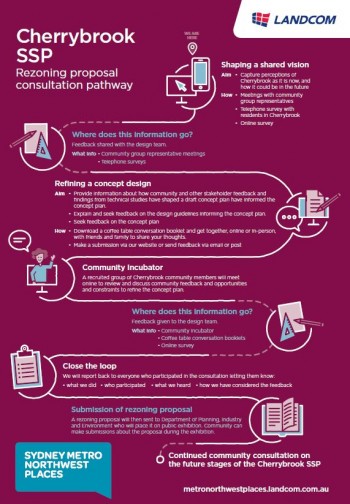 Thank you to the many people who shared their thoughts about the future of the government owned land at Cherrybrook Station
The consultation period closed in September 2020 and we are reviewing the feedback you provided to refine the proposal.
We have done an initial review of the feedback, and heard that some people:
value the Blue Gum High Forest and the green, leafy look and feel of Cherrybrook
want more cafes, restaurants and safe places for young people to meet, while others told us they were happy to use services in Castle Hill and Epping
think the provision of affordable housing for people such as teachers, nurses, disability and childcare workers, and emergency workers like paramedics and police was a great idea
are concerned about the impact on traffic congestion and parking
are concerned about the capacity of schools in the area
are opposed to the proposed maximum building height of up to eight storeys.
Consultation activities
Community consultation about the rezoning of land near Cherrybrook Station began in late July 2020 and ended in late September 2020. We invited participation by:
delivering flyers to 2,100 properties in Cherrybrook and West Pennant Hills
posting social media announcements on Facebook and LinkedIn
sending an update to people who have registered interest in the project
emailing 72 Cherrybrook community groups, service providers and businesses
sending a media announcement to the Northern District Times.
We also advised the local Member of Parliament and the Hornsby Shire Council Mayor and General Manager that community consultation had started.
Consultation activities included:
updated information about the project on our website
an online survey between 24 July and 6 September 2020
that same survey conducted over the telephone by an independent research company, aimed at collecting the opinions of three defined age groups (18-39, 40-59 and 60+ years) with roughly equal representation of each group
an online feedback form open until 27 September 2020
meetings with seven Cherrybrook community groups
an online community incubator held between 27 - 30 August 2020 with a follow up video conference held on 7 September 2020
an online coffee table conversation booklet, which closed on 27 September 2020.