Previous community engagement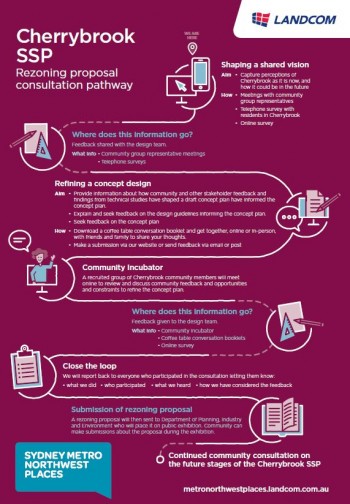 Thank you to the many people who shared their thoughts about the future of the government owned land at Cherrybrook Station
We received feedback during the July to September 2020 consultation, led by Landcom and the July to August 2022 public exhibition, led by the Department of Planning and Environment.
We heard that people:
value the Blue Gum High Forest and the green, leafy look and feel of Cherrybrook
want more cafes, restaurants and safe places for young people to meet, while others told us they were happy to use services in Castle Hill and Epping
think the provision of affordable housing for people such as teachers, nurses, disability and childcare workers, and emergency workers like paramedics and police was a great idea
are concerned about the impact on traffic congestion and parking
are concerned about the capacity of schools in the area
have different views about the proposed maximum building heights .
The application is now being assessed by the Department of Planning and Environment. View the application and the consultation reports on the Planning Portal here.