Nadia Hernández - "Everything Comes Alive!"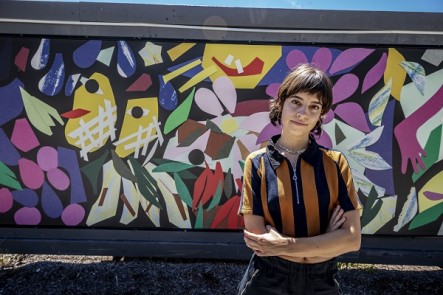 Nadia Hernández's practice is underpinned by narrative, drawn from familial stories, memories and experiences. Influenced by the sociopolitical climate of Venezuela and her diasporic experience as a Venezuelan woman living in Australia, Nadia depicts abstract forms with an expansive colour palette. Her paintings, installations, textiles and works on paper, while joyful and energetic in colour and line, simultaneously hold a deep longing for her home country.
Nadia has exhibited widely across Australia, in solo exhibitions at STATION Gallery, Sydney (2021) and Verge Gallery, Sydney (2020). Group exhibitions include miffy & friends Queensland University of Technology Art Museum (2020/21 and national tour).
In 2019 Nadia was awarded the Churchie Emerging Art Prize and undertook a residency with Bundanon Trust. She has been shortlisted as a finalist in several awards including the New South Wales Visual Arts Emerging Fellowship Artspace (2020); the John Fries Award, UNSW Galleries in Sydney (2019) and the Fisher Ghost Art Award, Campbelltown Arts Centre (2017).
Nadia has received public art commissions for Brisbane City Council in 2019 and City of Sydney in 2017.
About the artwork - Everything Comes Alive!
This artwork takes inspiration from the fresh produce and local food retailers at the Parklea Markets and surrounds. Everything Comes Alive! combines Northwest Sydney's connection to food and community with the artist's childhood memories of growing up in Venezuela.
The artist recalls frequenting her hometown's local market with her grandparents and remembers the freedom to wander and entertain the many worlds which came alive in her mind. The imagery from these recollections inspires this artwork and invokes the possibility to dream and conjure a future filled with positivity and connection.
Sydney Metro Northwest Places public art program thematic framework
This artwork lies in the idea of The Network – represented by the interconnected values and relationships we develop with people, places and the environment - and the art and community sub-theme.