Tallawong: Pemulwuy "Butu Wargun" (Crow, lawman) by Jason Wing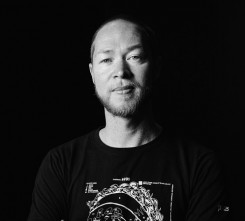 Jason Wing is a Sydney-based artist who strongly identifies with his Chinese, Aboriginal and Australian heritage. Wing began as a street artist and has since expanded his practice to incorporate photomedia, installation painting and public art, influenced by his tri-cultural upbringing. Wing has exhibited in museums and galleries throughout the world, is collected nationally and internationally and is the recipient of major awards. Wing produced his inaugural public artwork, the well-loved "In Between Two Worlds" in Sydney's Chinatown in 2011.
About the artwork - Pemulwuy "Butu Wargun" (Crow, lawman)
Pemulwuy was an Aboriginal leader who united many clans around the Sydney area to fight for his people against the British. Legend tells us that Pemulwuy was a magic man and escaped imprisonment by transforming into a crow. "Butu Wargun" means "crow" and "lawman": it represents the strength of Aboriginal people and the power of transformation.