Kellyville: Untitled 2019 by Jan van der Ploeg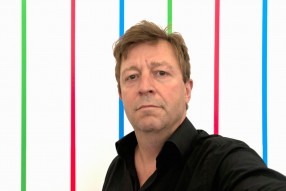 Jan van der Ploeg graduated from the Gerrit Rietveld Academie, in Amsterdam and Croydon College of Art in London and was a resident at the RijksakademievanBeeldende Kunsten in Amsterdam. In 1990, van der Ploeg was awarded the Royal Award for Modern Painting. He has exhibited his work extensively in both solo and group exhibitions in Europe, North America, Asia, Australia and New Zealand.
About the artwork - Untitled 2019
Playing with patterns, shapes and repetition, the artwork is an anchor to the unlimited potential of structures and shapes in our world. The organisation and balance arises from experimenting with the building blocks of basic forms, and creates order out of chaos. We're drawn into this striking, well balanced artwork that is a playful contrast to the surrounding environment.