The Big Busk presented by Sydney Youth Orchestras
Friday 29 September 2022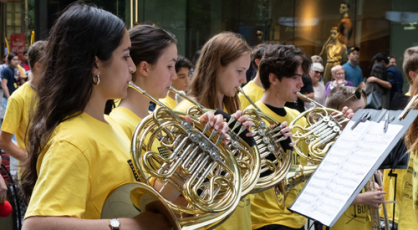 Have you ever wondered what it takes to be one of the best young orchestral musicians in the country? Come along to Sydney Youth Orchestras' 'The Big Busk' on 29 September to find out.
The Big Busk is a celebration of youth and orchestral music and brings various locations across Sydney to life with over 10 hours of consecutive live performances.
Bella Vista Pocket Park will host 'Meet the Orchestra', a live performance for families, friends and fur babies to enjoy in a relaxed setting. Come and meet the musicians as they talk you through a range of instruments and musical demonstrations.
This is a free event and registrations are not required. Simply drop by Bella Vista Pocket Park to enjoy.
For more information visit syo.com.au
Sign up to our newsletter