Hasta la Bella Vista baby!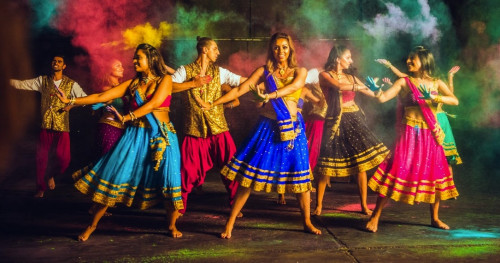 Hasta La Bella Vista Baby is on Saturday 30 November 2019! Register now to come along to this unique after-dark celebration of the Hills Shire's diversity and creativity. Enjoy art, dancing, live music, good food and more. You will meet artist Tina Havelock Stevens, who has spent the past year collaborating with Bella Vista and other Hills Shire locals to craft this exciting evening, paying homage to a rapidly changing suburb.
Join the talk show, watch the film, learn a Bollywood dance, experience the rock ensemble with local drummers and guitarists, view the artworks full of words and images inspired by local writers from the neighbourhood and above all, have fun!
For more information go to the Museum of Contemporary Art website.
Event: Free family event – everyone welcome
Date: 30 November 2019
Time: 7.00-9.30pm Bella Vista Station (next to the commuter carpark)
Transport: Use the metro if you can. The event is right next to it!
Bring: a picnic blanket to sit on.
Food: Food is available for sale onsite or bring your own.
Drink: This is an alcohol free event. Cold drinks and coffee will be on sale or bring your own cold drinks in unopened containers. Thermoses and opened bottles will not be permitted.
This project is co-commissioned by the Museum of Contemporary Art's C3West program and Landcom.
Program:
7:00 PM - Smoking ceremony and Welcome to Country.
7.30 PM - Tina talks Bella Vista – Watch pre-recorded interviews and be part of the 'live-to-air' TV show about your hopes and dreams in the Hills.
7.45 PM - Bollywood Bella Vista – The premiere of this film with local Bollywood dancers from Nupur Dance Group performing in the streets of Bella Vista and accompanied by a live performance by our Hills Rock Ensemble playing an original score.
8:00 PM - Local writers perform texts inspired by the neighbourhood. Display by Hills Athletic Fencing Club.
8:40 PM - Bollywood Bella Vista – second set of the film and live performance.
8:50 PM - Jinnie De and Bollywood dancers from Nupur Dance Group perform.
9:00 PM - Learn to dance Bollywood with Jinnie De as the night draws to a cacophonous climax.
9:30 PM - End.
Artist Tina Havelock Stevens
On her project Tina Havelock Stevens says, "The project at Bella Vista is a meditation on the relationships between each other, the places we inhabit, and ourselves. I like to inhabit a place tuning into frequencies and histories to create visual and sonic portraits. Using my DIY punk aesthetic, I take on unpredictable experiments in sound, performance, video and print to unearth participants and create something new."
Sign up to our newsletter to stay in touch with upcoming dates and times for this event and more.