The Plant Library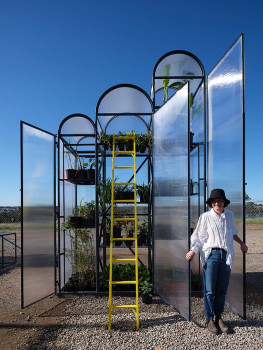 Landcom is proud to be the lead partner with the Museum of Contemporary Art Australia and their C3West program to bring you The Plant Library.
Artist Lauren Brincat has collaborated with community gardeners, plant enthusiasts and horticultural experts around the new Tallawong Station to create The Plant Library.
These sculptural greenhouses are home to dozens of species, from edible flora grown by locals to plants that form part of Darug cultural practices. The project honours the Cumberland Plain and reflects on the area's transformation from the food bowl of Sydney to a residential community, filled with a rich growing culture of its own. The Plant Library is an exchange of living art, encouraging participation and solidarity amongst the residents around Tallawong, and offering a moment of relief from the urban landscape.
A story for a seedling
Share your plant-filled stories and be gifted a seedling in return. Explore the library and learn about the many plants housed within.
Where is the event?
The Plant Library will be presented near the Tallawong Metro Station, Rouse Hill. Jump on the metro to visit The Plant Library, share your stories and take home a free seedling of your own.
The sculptural greenhouses are open until 2 October. Opening times vary so visit the MCA website for more information.