Tallawong Pocket Park: Blacktown City Libraries Mobile Library
Landcom is proud to partner with Blacktown City Council to bring the Blacktown City Libraries Mobile Library to Tallawong Pocket Park.
The mobile library is a great way to access Blacktown City Council's services in your local area. Visit the friendly team at Tallawong Pocket Park for a convenient way to:
borrow or return books
'click and collect' your reserved books
access eLibrary: books, audiobooks and magazines
access millions of articles using the online database.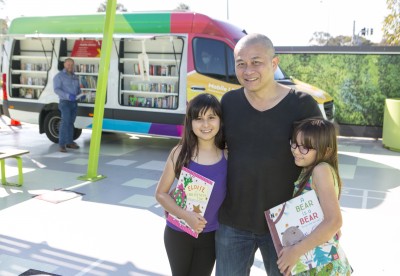 Bring your family and friends to the pocket park every Friday from 11am to 1pm and enjoy fresh air, a warm drink, and check out hundreds of books, eBooks and online articles.
Visitor information
Participation is free and there is no need to register if you'd like to visit. Please note toilets are located inside the Metro station, you will need your Opal card to access and will not be charged if your time is under 10 minutes.
The service will respond to any COVID-19 restrictions and recommendations, including social distancing requirements, and is subject to advice issued by NSW Health authorities.
You can learn more about Blacktown City Libraries' Mobile Library and track any weather or COVID-19 program updates here.